Aqua Mer Academy
Body Contouring Masterclass
Are you ready to start your own business?
Expand the services you already offer to clients? Increase your annual income by 50k-80k?
Body Contouring is in high demand. This is your opportunity to learn from the experts.
Our one (1) Day Body Contouring Masterclass includes certification in Cavitation, Radio Frequency, Lymphatic Drainage, and EMS Muscle Toning and Building. Complete consultation and client conversion training are also included.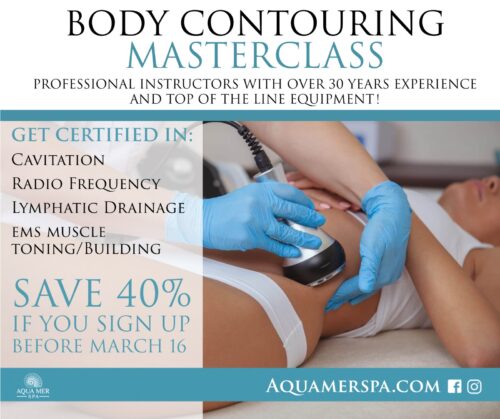 Professional Instructors with over 30 Years Experience & Top of the Line Equipment
Get Certified In:
Cavitation
Radio Frequency
Lymphatic Drainage
EMS Muscle Toning / Building
Upcoming Course Dates:
Wednesday, March 29, 2023
9:00am – 11:30am Classroom Work (Theory, Consultation, Package Creation, Client Retention)
11:30am – 12:30pm Lunch (provided)
12:30pm – 4:00pm Hands-on Practical Training (performing treatments on all body treatment areas, focusing on technique)
Call us to Sign-Up 905.951.7886